Federal Unsubsidized Loans
Most graduate students who are U.S. citizens or eligible noncitizens will qualify for up to $20,500.00 a year. Interest accrues while you are in school, though payments are not due until you have completed your degree. Recent interest rate and loan fee information can be found here.
 
Graduate PLUS Loan
PLUS loans are approved based on credit worthiness and a separate application is required for consideration. Interest will accrue while you are in school, though payments are not due until you have completed your degree. Additional information may be found at studentaid.gov.
Submitting your FAFSA
The Free Application for Federal Student Aid (FAFSA) must be completed for consideration of Federal Loans. The FAFSA will require student income from two tax years prior. Use School code: 001329
Requesting Student Loans
Graduate students enrolling in programs in Benerd College, College of the Pacific, Conservatory, Eberhardt School of Business, or School of Engineering and Computer Science must submit the number of units they are enrolling in for the academic year to have their loans processed.
Students in the Dugoni School of Dentistry, McGeorge School of Law, Thomas J. Long School of Pharmacy, and the School of Health Sciences DO NOT need to use this portal as they are automatically considered for loans once admitted with a FAFSA on file.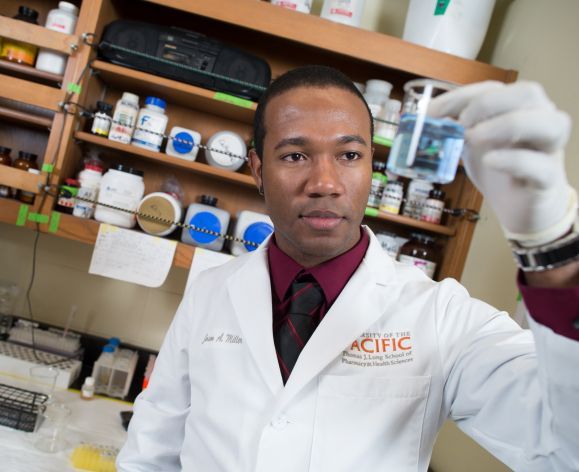 Funding Available
Graduate Assistantships
University of the Pacific provides a limited number of Graduate Teaching Assistantships. Graduate Assistants receive an assistantship and tuition support, which is intended to help finance their graduate education.
Let your merit speak for itself
Scholarships & Fellowships
University of the Pacific Scholarships
Institutional scholarships vary by school and program. For further information please reach out to the program directly.
External Scholarships & Fellowship Programs
There are numerous external scholarships and fellowships available for graduate students. Below is a list of resources to help you search for scholarships: